Site Content
Wood Destroying Organism Report (WDO Report)
The Structural Pest Control Board, state of CA, regulates the activities of 3 different classifications of licensing. They are described as:
Branch I for fumigations.
Branch II for genera pest control; that being ants, spiders, rodents, etc.
Branch III for Structural Pest Control; that being infestations or infections that either consume the cellulose content from wood cells, or are genetically structured to destroy wood for habitats, such as carpenter bees & carpenter ants.
In the plant kingdom, infections of fungi are the primary organisms that feeds on cellulose. The cellulose content of the wood cells are consumed by the fungi causing the walls of the cells to collapse causing the condition commonly known as "dry rot," although decay is caused primarily by moisture conditions.
In the animal kingdom, infestations of subterranean termites, drywood termites & wood boring beetles are the primary organisms that destroy wood by consuming cellulose.
George Webb Termite Control Inc. is registered with the Structural Pest Control Board, state of CA, as a Branch III company and is licensed to perform WDO inspections, issue the report and to perform all recommendations as listed on the inspection report. Those recommendation would include repairs, chemical treatments in the soil for subterranean termites and fumigations for drywood termites & wood boring beetles. GWTC Inc. is not licensed for fumigations and fumigations are subsequently performed by Nor-Cal Pest Control as a sub-contractor. Treatments in the soil are performed primarily with the chemical called Termidor.
WDO Reports as performed by GWTC Inc. are divided into 2 categories: Section I where an active infestation or infection is determined to exist, and Section II, which are conditions such as earth contacts or plumbing leaks that will eventually lead to a Section I finding if not corrected. Only Section I recommendations must be corrected for a certification to be issued; however, most VA & FHA loans require Section I & Section II Findings to be corrected.
An inspection report must be on a form proscribed by the state. The inspection starts with a foundation sketch, not drawn to scale but accurate enough for our purpose. This follows with Findings & Recommendations. The inspector will look for decay on the eaves, rafter tails, trim boards, T-1-11 siding, lap siding, etc. After inspecting the outside, the inspector will go inside and look under the sinks, test the showers, look at window stools, etc. If the house has a crawl space, then the last part of the inspection requires going under the house & inspecting floor joists, sub-flooring, rim joists, plumbing leaks, etc.
GWTC personnel are also trained for Orange Oil Treatments. XT-2000 Orange Oil Plus (Active Ingredient: d-Limonene). XT-2000 Orange Oil Plus is a by-product of the citrus rind, natural in origin, and biodegradable. d-Limonene does not contain and is not manufactured with any of the Class I or II Ozone-Depleting substances listed under the United States Clean Air Act of 1990.
We use Orange Oil for topical treatments for the control of wood boring beetles when the infestation has not advanced to the stage of needing a fumigation.
We can usually accommodate a request for an inspection within 2 or 3 days, depending on zip code location. Repairs are typically about 7-10 days out. Fumigations can be as much as 14 days out or longer.
We do not destroy wood during an inspection. A good inspector will tap the wood with a blunt probing device to determine if the wood is decayed or not. If the blunt probing device enters the wood with little or no pressure, the integrity of the wood has already been compromised. A thin outer layer of wood can hide a small mountain of drywood termite pellets that can be easily missed.This is a long form text area designed for your content that you can fill up with as many words as your heart desires. You can write articles, long mission statements, company policies, executive profiles, company awards/distinctions, office locations, shareholder reports, whitepapers, media mentions and other pieces of content that don't fit into a shorter, more succinct space.
Articles – Good topics for articles include anything related to your company – recent changes to operations, the latest company softball game – or the industry you're in. General business trends (think national and even international) are great article fodder, too.
Mission statements – You can tell a lot about a company by its mission statement. Don't have one? Now might be a good time to create one and post it here. A good mission statement tells you what drives a company to do what it does.
Company policies – Are there company policies that are particularly important to your business? Perhaps your unlimited paternity/maternity leave policy has endeared you to employees across the company. This is a good place to talk about that.
Executive profiles – A company is only as strong as its executive leadership. This is a good place to show off who's occupying the corner offices. Write a nice bio about each executive that includes what they do, how long they've been at it, and what got them to where they are.
George Webb Termite Control, Inc. is registered with the Structural Pest Control Board, state of CA, as a Branch III company and is licensed to perform WDO inspections, issue the report and to perform all recommendations as listed on the inspection report.
LIVE DRYWOODS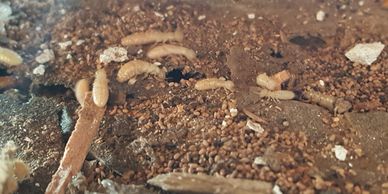 Drywood termites colonize in the wood & most homeowners & inspectors alike never actually see them. Drywoods are a slow developing specie and it takes about 5 years before a homeowner might start seeing fecal pellets being pushed out of an exit hole in the sheetrock, pursuant to the termites cleaning the galleys.
SUBTERRANEAN SWARMERS
When a subterranean termite colony reaches a certain level of growth, they will develop swarmers with wings. These swarmers are not good flyers and go where the wind blows. They will swarm towards sunlight, i.e., a window. When they swarm, there will be hundreds of them. This is about when we get a call.
SUBTERRANEN TERMITE TUBES ON FOUNDATION
Look at the 2 shelter tubes on the foundation. This is the highway for the subterranean termites to travel from the colony in the soil to the food source., i.e., your house.
SUBTERRANEAN TERMITES IN STUMP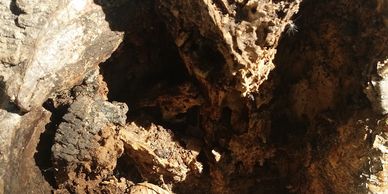 If this stump is near your house, when the termites finish off the stump they will be heading your way.
DECAY TO DOORJAMB
This is a typical Finding with a typical Recommendation for repair. Doorjambs are made from pine, a very soft wood. There is now a new product on the market where the bottoms of the jambs are covered or made from PVC.
SECTION II MOISTURE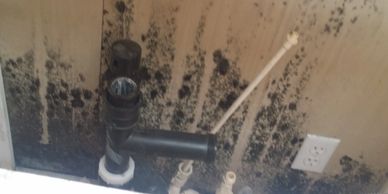 This is what we see frequently see under the kitchen sink. This is black mold, which can contain fungi spores. There are about 1,100 different kinds of mold. The one to be concerned about is Stachibachus. Stachibachus mold can cause serious health problems, and there have been cases where a house has been condemned because of this mold. Only a mold test from a laboratory will tell you if the mold has Stachibachus spores.
SUBTERRANEAN TERMITE DAMAGE
This is typical damage from subterranean termites. They never sleep, so the longer you wait to call for help the more severe will be the damage and the repair bill.
DRYWOOD TERMITE PELLETS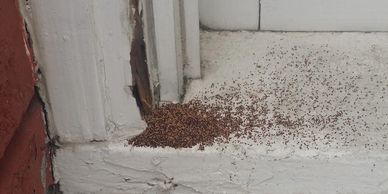 Drywood termite pellets are usually the color of the wood they are eating. They are smaller than grains of rice and pile up around damaged wood. Pellets are also commonly found inside tunnels. To control dry wood termites, a pest management professional is needed.
QUALITY REPAIRS